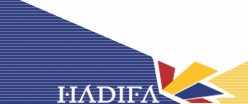 Clarion Events are proud to partner with HADIFA on the launch of VIDSE.
HADIFA are one of the most respected companies operating in the Vietnamese Event Space.
You will seize opportunities of trade promotion and business cooperation in trade fairs and exhibitions. HADIFA is an important bridge for Vietnamese and foreign enterprises to boost their business. Putting your trust in a professional company is the golden key to your success.
We are experts who strive for perfection in all that we do. We love challenges and creativeness of what we do in order to bring about mutual benefits for you, for us and for the whole community.
Creativeness in thought
Pioneer in action
Striving for effective cooperation and perfect service
We always improve ourselves to become the fulcrum for your steady advances

HADIFA provides customers and partners with all kinds of trade-show services and various forms of promotion for business success.
Trade show and event management
Trade show and event services
Design and construction of exhibition stands
Billboard advertising
Gifts & Premiums

HADIFA's experience and expertise are critical in making VIDSE a huge success. For more information visit HADIFA's website: